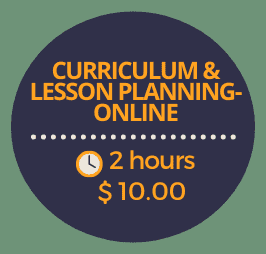 Curriculum and Lesson Planning – Online
Lesson planning can seem overwhelming for a new teacher and for a more experienced teacher, it can be hard to keep it fresh. This course will deliver step by step instructions on taking either boxed curriculum or your own ideas and turning them into a written lesson plan. The process is broken down into easy to follow steps and a multitude of ideas are given for themes and categories. Course length  – 2.0 hours.
The course answers the following questions:
What is quality curriculum?

Are lesson plans necessary?

What does developmentally appropriate mean?

What is a theme and how is one used in the development of curriculum and lesson plans?

Is boxed curriculum necessary? Is it useful?

What categories should I use on my lesson plans?

How can I break down lesson planning into manageable steps?
Participants who successfully complete this course will be able to:
Demonstrate an understanding of the term "developmentally appropriate practice".

Demonstrate the ability to choose developmentally appropriate themes and activities for their age group.

Demonstrate the ability to prepare developmentally appropriate lesson plans for their age group.
Please help other students make smart course choices by providing a course review after you complete the course. Your reviews help us improve our courses too! A "Write a Review" button will appear on this page after you complete the course. Thank you.
Buy this Course
Course Content
Ratings and Reviews