Great customers deserve a great customer loyalty program. That's why we created Bright Minds Rewards! We want to reward you for choosing us as your online early childhood education provider. Checkout all the ways you can earn "

Brightstars

" your customer rewards currency. 
It's easy to participate in Bright Minds Rewards. On our home page you will see the widget shown below except it will be turned vertically and will be on the right side of your screen. If you have created an account with us all you need to do to join the rewards program is click on the widget. If you don't already have an account just go to our account page and sign up and then you just click on the widget from the account page.
After you click on the widget you will see your Bright Minds Rewards information in a popup window like the leftmost image shown below. From this window you can select ways to earn Brightstars. When you click on the "Referral" button the popup will look like the center image below. It provides details on how to obtain Brightstars and valuable course discounts for yourself, your friends and co-workers by referring them to Bright Minds Training. When you click on the "Claim" button you will see the rewards that you can claim with your Brightstars.
A great way to earn course discount coupons and Brightstars is by telling your co-workers and friends about us. It's easy to do. First click on the widget "Referral" button and then click on the email, Facebook or Twitter buttons to share with them the coupon code that is displayed in the widget. You can also copy the coupon code and create your own message. See the center image of the widget included above. All they have to do is use that coupon code at checkout when they place their first order with us. We will email you a coupon code for
25% off your next order total

and reward you with 1000 Bright Stars! Your friend will receive a 25% discount on their order total. Included below are examples of the Facebook, email and Twitter messages that are sent to your friends.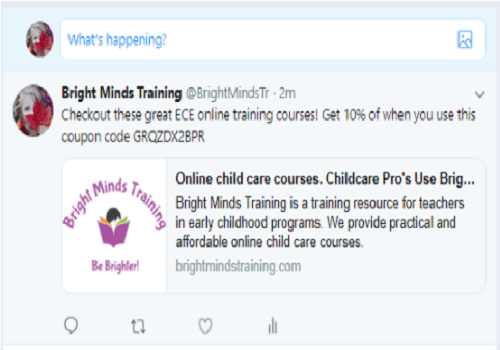 Another great way to earn Brightstars is by purchasing Bright Minds Training courses. You earn 50 Brightstars for every dollar you spend. So, for example, if you buy a $10 course you would earn 500 Brightstars. When you have accumulated 500 Brightstars you can redeem them for a $1 discount on your next course purchase. Let's say you accumulate 4500 Brightstars. If you want you can apply them for a $9 discount on a $10 course. You apply points on the shopping cart page. The following image illustrates this example:
Bright Minds Training has partnered with The Alex's Lemonade Stand Foundation (ALSF) in it's support of research for finding cures for childhood cancer. ALSF also does great work towards helping children with cancer and their families. Each month Bright Minds Training will donate 10% of it's profits to support ALSF. Each time you redeem 1000 Brightstars for ALSF you will be providing a $2 donation towards saving the lives of children from cancer
. 
We have created a separate page on our site for The Alex's Lemonade Stand Foundation. Click ALSF to go there and learn more about Alex's Lemonade Stand Foundation. We hope you will join us in supporting this worthy cause.